Serious aches and pains can be an uncommon part of pregnancy. Thankfully, prenatal chiropractic care can help you feel your best while your body is hard at work growing a human. The benefits of prenatal chiropractic care are myriad, and you'll be able to rest easy knowing that you're getting the pain relief that you need--without putting chemicals into your body.
Here, we'll explore how working with a pregnancy chiropractor can help you and your growing baby stay healthy.
Benefits of Prenatal Chiropractic Care
When our body is going through the work of pregnancy, it's natural for the pelvis to become misaligned as your body shifts to accommodate your baby. Chiropractic prenatal care can help to align the pelvis which can relieve many pregnancy-related issues, such as backaches, joint pain, and hip pain.
Pain is stressful, and regular chiropractic care throughout your pregnancy can help lower your pain levels, boost your nervous system functioning, and help you get the rest you need. Stress also can disrupt your hormones, and using prenatal chiropractic care to keep stress levels in check can work to support a healthy pregnancy.
Supporting Optimal Fetal Positioning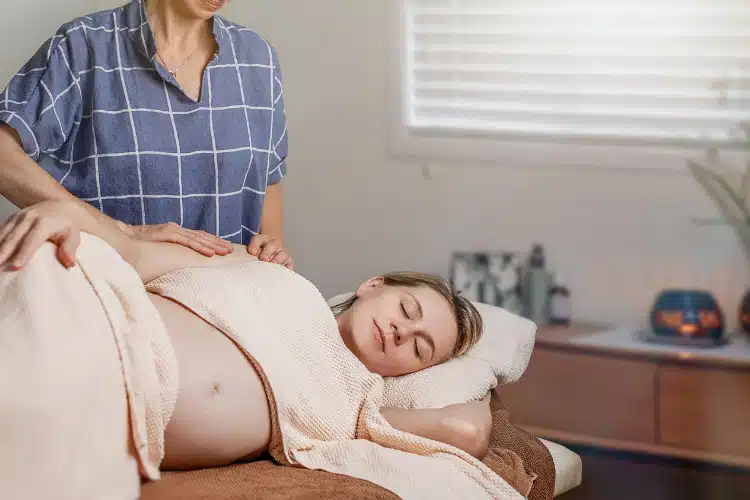 A baby in the breech position can be dangerous, and chiropractic prenatal care can help move your baby into optimal positioning. Proper pelvic alignment can help your body accommodate your baby's head-down positioning.
The Webster Technique is a safe, gentle chiropractic pregnancy care method that aligns the hips and pelvis, facilitating proper fetal positioning. Usually, the Webster Technique is performed over four to six sessions over two weeks.
Managing Pregnancy-Related Ailments
Pregnancy takes a toll on your nerves, muscles, and joints. Prenatal chiropractic care can address several conditions, including public symphysis dysfunction, round ligament pain, sciatica, lower back pain, and more. When you choose to work with a pregnancy chiropractor, you're choosing a medical professional who understands your body's unique needs, as well as how to perform care techniques. Research shows that chiropractic care is effective for the management of pregnancy-related pain, even when the initial pain level is so high that it interferes with basic functioning.
Safety of Prenatal Chiropractic Care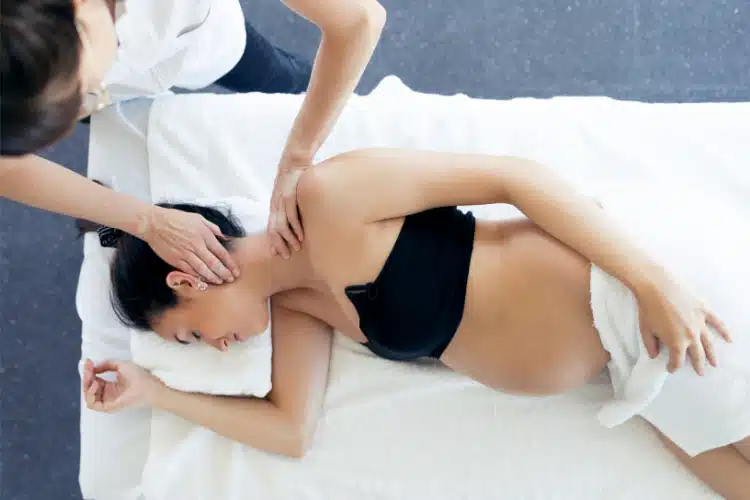 As a parent, you want to be sure you're creating the safest environment possible for your baby, and that starts before they're born. Prenatal chiropractors are highly trained and qualified. Studies show that chiropractic care during pregnancy is safe for pregnant women who are not experiencing unexplained bleeding, are not at risk for preeclampsia, and are not at risk for early labor. Your chiropractic prenatal care team will be happy to work with you to address any safety concerns you have with your treatment.
Integrating Prenatal Chiropractic Care with Other Pregnancy Care Practices
Chiropractic care is meant to be used in tandem with other forms of prenatal care. It's key to use a multidisciplinary approach when it comes to getting the care that you need as you prepare for your baby's arrival. Prenatal chiropractic care can complement other approaches to well-being during pregnancy, including proper nutrition, exercise, and prenatal yoga. Collaboration between your pregnancy chiropractor and other healthcare providers can allow your team to take a multifaceted approach to your care.
You want the best for your baby. From pain relief to helping your baby get into a head-down position to boost the functioning of your nervous system, prenatal chiropractic care can go a long way in supporting your health. At Kosak Chiropractic & Acupuncture, we're here to support your wellness during pregnancy. Reach out to us at (402) 964-0300 to schedule your first appointment today.