Shoulder Pain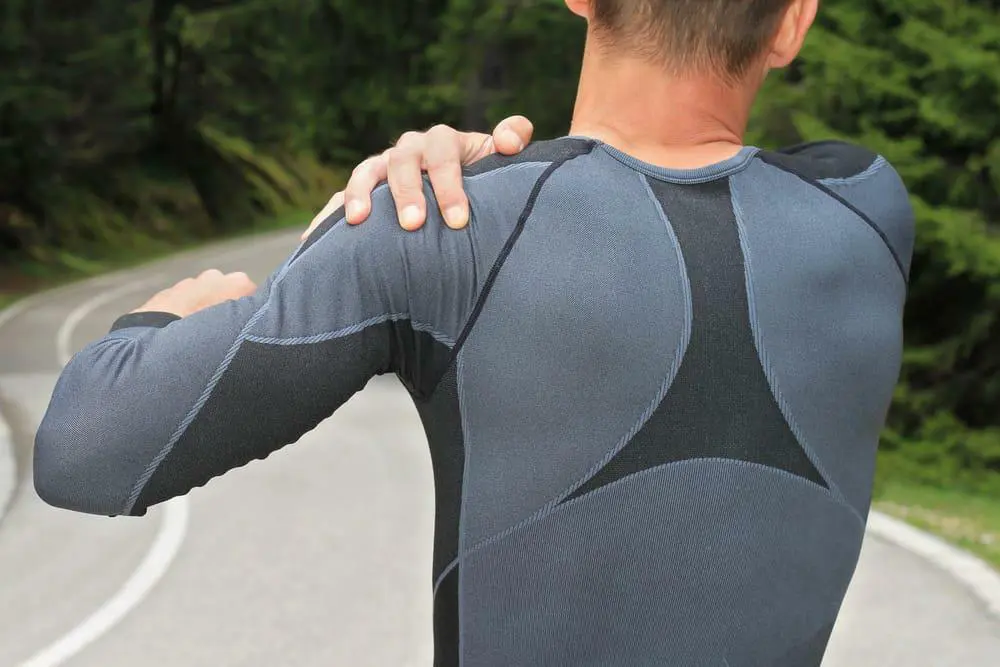 The last thing you want to do about shoulder pain is to suffer through countless surgeries and bottles of pain killers. At Kosak Chiropractic and Acupuncture in Omaha, Nebraska, we provide patients with all-natural, non-invasive pain relief for shoulder pain. We treat sports injuries, car crash injuries, and herniated discs in the upper spine causing shoulder pain. Discover the typical causes of shoulder pain along with ways we treat this as one of the leading Omaha chiropractors for families.
Understanding Shoulder Pain
Your shoulders are made up of joints, tendons, and muscles all connected to your musculoskeletal system. Whenever there is a misalignment in the bones or tissue in the shoulder, this creates inflammation. The swelling from this inflammation presses against nerves and pushes other muscles out of position. As a result, most people suffering from a shoulder injury or shoulder pain lose some or all mobility in the shoulder, which is called frozen shoulder or adhesive capsulitis.
Causes of Shoulder Pain
Shoulder pain can be caused by trauma, and injury, or repetitive use. Infections and nerve problems can also lead to shoulder pain. Examples of these shoulder conditions include:
Arthritis including osteoarthritis caused by sports injuries
Tendinitis ranging from acute to chronic inflammation in the tendon of the shoulder
Bursitis, which may be accompanied by rotator cuff tendinitis
Shoulder instability that leads to shoulder dislocations or 

subluxation

Bone fractures within the collarbone, upper arm bone, and/or shoulder blade
Poor posture leading to shoulder strain
Auto accident injury resulting in whiplash and lower neck pain affecting the shoulder
Sports injuries including traumatic injuries and personal injuries
Repetitive use syndrome
Rotator cuff injury or tennis shoulder
Tendon tears, typically caused by repetitive use, overuse, or advanced aging
Symptoms of Sprained and Strained Shoulders
Speaking of tendon tears, symptoms of sprained or strained shoulders include:
Pain in the shoulder
Swollen shoulder muscles
Bruising at the area associated with swelling and pain
Loss of mobility in the shoulder, i.e., you can't lift your arm like usual
Frozen shoulder
Muscle spasms, which are associated with strained muscles
Hearing a popping sound when injuring your shoulder, which is associated with a sprained shoulder and a dislocated shoulder
If you are suffering from any type of shoulder pain or have injured your shoulder, treatment from Omaha chiropractors is a recommended solution.
Diagnosing Shoulder Pain in Omaha
When we see patients who have shoulder pain at our Omaha chiropractor, we start by getting to the root of the injury or condition. By understanding what is causing your pain we can help resolve it naturally using chiropractic adjustments, massage therapy, and acupuncture.
We provide a comprehensive, personalized treatment plan following a detailed analysis of a patient's medical history and physical condition. From here, you begin your chiropractic shoulder pain treatment in Omaha to relieve your shoulder pain and treat your shoulder injury.
Treating Shoulder Pain at Our Chiropractic Doctor
At our chiropractic doctor in Omaha, we specialize in all-natural treatments that do not involve medications or surgery. For shoulder pain our treatments include:
Chiropractic adjustments to realign the musculoskeletal system
Acupuncturefor shoulder pain
Posture screening to correct poor posture
Corrective exercises to strengthen back and shoulder muscles
Lifestyle changes, such as exercise recommendations or ergonomic practices
In addition, we provide chiropractic adjustments to realign your musculoskeletal system. This ensures your shoulder muscles, tendons, joints, and bones are all in the proper position. This is also the first step in helping to improve your shoulder condition. Once your spine and shoulder are in the right alignment, we can proceed with treating the injury at the source.
Benefits of chiropractic treatments for shoulder pain include:
No downtime after a chiropractic adjustment or acupuncture treatment
No prescription medications or over the counter drugs
No invasive methods including exploratory shoulder surgery
Increased circulation of blood to aid in healing
A boost of endorphins with acupuncture provides all-natural pain relief
Improvement of your overall health and well being
Treating Your Shoulder Pain in Omaha, NE
Our Omaha chiropractor, Dr. Kevin Kosak treats patients of all ages. We are the leading pediatric chiropractor treating infants, children, and teenagers in the Omaha metro area. Specifically, at Kosak Chiropractic and Acupuncture, we treat patients living in:
Omaha
West Omaha
Bennington
Elkhorn
Dr. Kosak is also a chiropractor for pregnant and nursing mothers, offering all-natural prenatal pain relief. Are you experiencing joint pain in the shoulder associated with your pregnancy? Now is the time to get chiropractic care to relieve your pain. We also work with athletes and sports professionals who have endured rotator cuff injuries or traumatic sports injuries leading to shoulder pain.
To schedule your chiropractic appointment for shoulder pain, contact Kosak Chiropractic and Acupuncture at 402-513-8954. When you call in, ask about our free chiropractic consultation for all of our new patients.